Best of WNY.com/Reviews / Best of WNY Music.com
Buffalo Heads
Media Study, Media Practice, Media Pioneers, 1973-1990
Edited by Woody Vasulka and Peter Weibel
Book Review - By Bob Silvestri
bobsilvestri@bestofwny.com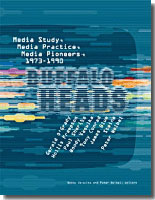 This epic tome chronicles the impact of the Department of Media study at the SUNY @ Buffalo campus during the 70's and thru the 90's. The program was a fertile breeding ground for an assortment of now legendary avant-garde filmmakers and artists. Faculty members Gerald O'Grady, Hollis Frampton, Paul Saharits, Woody Vasulka, Steina, Tony Conrad, James Blue and Peter Weibel are featured in the book with stunning reproductions of their art, interviews with the artists and plenty of photos spread out over eight hundred pages. Buffalo Heads is a great tribute to some true visionary artists. The book is available from MIT Press at http://mitpress.mit.edu/main/home/default.

Copyright © 2010 Best of WNY.com
Hosted by LKPro.com
All rights reserved. Reproduction in whole or in part without permission is prohibited.