Best of WNY.com/Reviews / Best of WNY Music.com
CD Review
Willie and the Reinhardt's
"Live at the Mohawk Place"
By Bob Silvestri

The saying goes that good things come to those who wait and in the case of the first CD from Willie and the Reinhardt's titled "LIVE AT THE MOHAWK PLACE' the wait is worth it. Up until now the only way to enjoy this band was to see them live or to have been lucky to come across some of the bootleg tapes that have floated around town. Now everyone can marvel at one of Buffalo's best blues bands.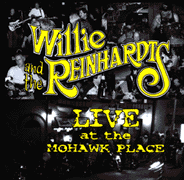 Choosing to record the CD live and at the Mohawk Place is almost a no brainer as the band's 6:30 Friday gigs there have become one of the best ways to start the weekend. After more than ten years together as a band the Mohawk has become a home to them. Having friends present and the comfortable feel of the club add to the performance.
At just over an hour long the cd is a mix of originals, standards and some blues chestnuts as only Willie and the Reinhardt's can do. Willie Haddath's guitar work is crisp and the awesome rhythm section of brother's Ted (drums) and Tom (bass) Reinhardt come thru loud and clear without overpowering. Highlights include Willie doing some low-down vocals on the Muddy Waters song "Sweet Sugar" and a great workout of the Tom Reinhardt song " Nothin' Comes Easy" as Willie shows great tone control and blistering fretwork. Also of note are "So Sorry Now"and a nice run through of "Key To The Highway".
Tales of cheating women and life's hard times never sounded so good. This is the perfect cd for all of your upcoming summer pool and bar-b-que parties. So do yourself (and the band) a favor and grab yourself a copy of Willie and the Reinhardt's "LIVE AT THE MOHAWK PLACE".
Copyright © 2006 Best of WNY.com
Hosted by LKPro.com
All rights reserved. Reproduction in whole or in part without permission is prohibited.