Best of WNY.com/Reviews / Best of WNY Music.com
The Vote for Change Concert
Rock 'n' Roll Heaven
October 16th
Concert Review By Bob Silvestri
bobsilvestri@bestofwny.com

The Vote For Change Concert was held at Rock 'n' Roll Heaven on October 16th. Held to raise awareness for the November election the show featured some of the area's newest and best bands and a reunion of the legendary band The 7th Sons. Kicking off the nearly six and a half hour show were Gary Zoldos and Bob James doing some acoustic numbers. Kim Sloan was up next and performed a solo set of original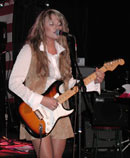 songs. She would return later to play with her band The Surrenders. The Uncalled For were next and played a set of refined rock to the crowds delight. Mini Motor Punch kicked things up a notch with a great set of tunes from their soon to be released CD. Kim Sloan and The Surrenders were next and played a stunning set of covers and originals.

Middleman showcased songs from their stellar new release and was well received by the crowd of music aficionados. The 7th Sons closed the night with a forty five minute set and proved that they had not lost a step with this their first gig in a couple of years. An incredible showcase for local talent and a great time for all in attendance. Remember to support local music by attending shows and purchasing locally made and produced music. You'll feel good about it.
Copyright © 2006 Best of WNY.com
Hosted by LKPro.com
All rights reserved. Reproduction in whole or in part without permission is prohibited.