Best of WNY.com/Reviews / Best of WNY Music.com
Vans Warped Tour
-D.L.P.A.C.-
- Darien Lake, NY - 7-14-10-
Concert Review - By Bob Silvestri
bobsilvestri@bestofwny.com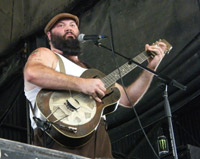 It's hard to believe that the Vans Warped Tour has been rolling along for the past sixteen years. Its humble origins of a few established bands and a host of upcoming artists has turned into a rock and roll circus complete with a tent city, skate park and upwards of sixty bands and more all for a mere thirty bucks. Sure some corporate greed (AKA sponsors) has crept in and maybe the tour has lost some of its snotty punk sneer as more pop and emo bands are prevalent on the bill but overall the Vans Warped Tour is still for me and many others the highlight of the summer concert schedule.
This years Vans Warped Tour hit DLPAC in Darien Lake, NY on July 14th, 2010 with a very large crowd enjoying the incredibly hot day.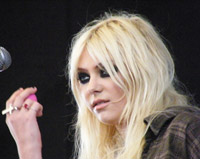 The day got off to a bad start as long lines at the gates and an hour earlier than listed start time caused us to miss half of ska masters Reel Big Fish's set. Things got better as the day went along with good sets from Rev. Paytons Big Damn Band, the Rochester outfit Polar Bear Club, Artists Vs Poets, Ace Enders, Mike Posner, Sum 41 and a blistering set in the hot midday sun from Of Mice and Men. A couple of girl fronted bands stole the spotlight with sets that equaled or surpassed those from the testosterone laden sets that most of the boys performed. First among those were a brilliant set from Gossip Girl television star Taylor Momsen and her band The Pretty Reckless. Channeling Edie Sedgwick and Cherie Currie, Momsen and her band's thirty minute set featured some fine rock songs and proves Momsen's real talent lays in music not television. This is not a side project from some vapid wannabe rock star; truth is The Pretty Reckless played a kick ass set. Automatic Love Letter fronted by Juliet Simms also put on an impressive set of well penned rock songs heavily influenced by Paramore's Haley Williams. Versaemerge with front woman Sierra Kusterbeck played a solid late day set that was greeted by a rather indifferent crowd. Maybe the long hot day finally caught up with a crowd that seemed tired and glad to finally sit down in the shade.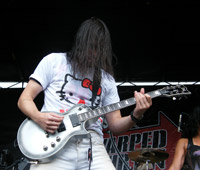 Andrew W.K. had the party rolling with his return to the Warped Tour after a seven year absence. His pulse pounding set got the crowd surfing and moshing and brought an energy lacking from many of the other acts. After his set he stayed in his merch tent for over three hours signing autographs and posing for photos to the delight of his many fans. Of course the elephant in the room all day was the highly anticipated set from local boys Every Time I Die who were on the headline stage. When they took the stage around 5:30 PM it appeared every single person at Warped Tour was in front of the stage shouting every lyric and forming a huge circle mosh. It seems Every Time I Die is headed for the stratosphere. That sneering punk ethos that seemed lost came thru with sets from The Casualties who formed in 1990 long before the tour was born and are still rocking today in the style of the Sex Pistols and The Clash. Props of the day go to All-American Rejects for their great set and front man Tyson Ritter's seething attack on the corporate VIP tent. Nothing like biting the hand that feeds you. Well done Tyson!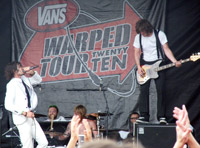 The low points seem to be the redundancy of some of the bands. At times if you closed your eyes you couldn't distinguish between when one band's set ended and the next one's began as all follow an emo or scream-o template to their music. Not that these guys aren't talented just no originality. And of course no Darien Lake show would be complete with out the Goon Squad (Darien Lake's security team) being their usual dickhead self's. Photographers including yours truly were told by the Goon Squad that the main amphitheater photo pit and backstage press tent was closed from 6:00PM with more than three hours left in the show. Others were kicked out after one song not the three allowed by Warped Tour credentials or they were refused admission to the photo pit even with credentials. Again this has nothing to do with the fine folks who run the Vans Warped Tour just the idiots running Darien Lake. Kudos to the entire Vans Warped Tour crew including but not limited to tour producer Kevin Lyman, Bari Lieberman and Libby Coffey at MSO for all their help with credentials and for once again putting together a great show. For more information about the bands and the Vans Warped Tour go to www.vanswarpedtour.com

Copyright © 2010 Best of WNY.com
Hosted by LKPro.com
All rights reserved. Reproduction in whole or in part without permission is prohibited.