Best of WNY.com/Reviews / Best of WNY Music.com
Vans Warped Tour
-D.L.P.A.C.-
Darien Lake, NY 7-24-08
Concert Review - By Bob Silvestri
bobsilvestri@bestofwny.com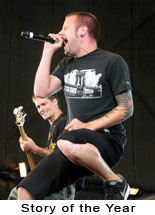 Neither foreboding skies nor threat of rain could keep the throngs of concert goers from descending on Darien Lake Amphitheater for the 2008 edition of the Vans Warped Tour on July 24th. The annual trek that is Warped Tour has become a well oiled juggernaut of the concert circuit and one of the highlights of the summer concert season. Where else can you see upwards of eighty bands for a thirty dollar ticket? Yeah some of the acts are repetitive of each other after a while and some bands not too polished yet but it is still a great way to catch both major headliners and up and comings acts all on one bill. Of course Darien Lake and their staff (this is not intended at anyone affiliated with Warped Tour as they are some of the finest concert people I've ever dealt with) will do anything to ruin your concert experience. Over charging for food and water to a mostly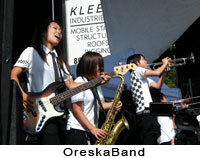 teenage audience who is there for at least ten hours for the show, I mean c'mon EIGHT dollars for a 4inch square microwave pizza is robbery, along with the normal parking lot woes, security goons etc. Without a doubt Darien Lake is the worst concert venue in Western New York. But we are there for the music so let's commence with it. As I said before some of these bands just meld together over the course of the day and get lost among the more memorable sets. Also moving the major acts inside the main amphitheater because of the weather caused a rather unpleasant scene as the crowd broke the front stage barrier causing a delay till it was fixed along with no room for the moshers, who did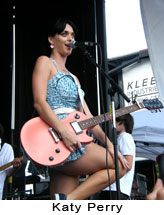 anyway, and a crushing mass as fans hurdled the fixed rows of seats to get close to the stage. Among the acts we caught on the big stage before abandoning the chaos were Cobra Starship, The Academy Is, Gym Class Heroes and a brilliant set from Story of The Year. Hitting the outside stages we found some real treats catching cool sets from Forever The Sickest Kids, Alesana, Settings, All Time Low, Tat and Family Force Five. Highlights of the day were two artists we came to see and one pleasant surprise. The surprise was the all girl Asian Ska punk band OreskaBand who played a danceable horn driven set that instantly won over the crowd with its infectious nature. Uber girl Katy Perry played an exuberant thirty minute set to a large crowd who ate it up and sang along to every song. Her set included her hit "UR So Gay" and current chart topper "I Kissed a Girl". Perry's set was a welcome deviation from some of the other artists on the bill.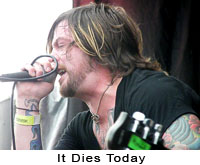 Buffalo's own It Dies Today played a blistering thirty minute set of its brand of metal rock. This is the second year in a row that the band has hooked up with Warped to play a hometown show. Their high energy set was marred by an over zealous mosher who caused front man Jason Wood to take control of the situation and stop the show mid song to admonish the culprit and led the crowd in the "A hole" chant until the person left the mosh pit before he continued with the song. For more info about Vans Warped Tour and some of the bands mentioned here check out www.warpedtour.com
Copyright © 2008 Best of WNY.com
Hosted by LKPro.com
All rights reserved. Reproduction in whole or in part without permission is prohibited.