Best of WNY.com/Reviews / Best of WNY Music.com
The Tragically Hip
-Warner Theatre-
Erie, PA.5-18-07
By Bob Silvestri
bobsilvestri@bestofwny.com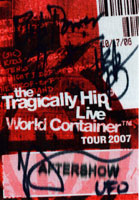 This one was a no brainer, a short jaunt down the Thruway to see The Tragically Hip in the intimate confines of the beautiful Warner Theatre in Erie, Pennsylvania. Out on the road in support of their latest disc World Container the show was similar to their two night stand at The Town Ballroom back in March. A large contingent of Buffalo fans were on hand evident by the plethora of Sabres jerseys and the chorus of boos that greeted the gentleman wearing Senators garb. The Hip kicked off their ninety minute nineteen song set in fine form with a jaunty "Yer Not the Ocean" followed by a blistering "Twist My Arm" and the first of the night's destroyed microphone stands courtesy of lead singer Gord Downie. A spine tingling "Lake Fever" and a sinister "Drop Off" kept things moving till the band revved it up a notch with a great run thru of "Poets".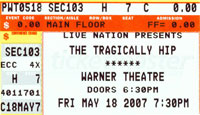 It looked like things could not get any better but the band was just hitting their stride as the tore into an astonishing version of "The Dire Wolf", a thundering "Inevitability of Death" and "New Orleans Is Sinking" right in a row. They slowed things down with a bluesy "Long Time Running" while "Fireworks", "Family Band" and "Blow at High Dough" closed out the set. "Blow..." featured the second destroyed mic stand this time as Gord rode it cowboy style. He then generously offered the three broken pieces as souvenirs to the crowd. The three song encore included "Lonely End of the Rink", The Stones "Street Fighting Man" and a maniacal "Little Bones". For more on The Tragically Hip go to www.thehip.com
Copyright © 2007 Best of WNY.com
Hosted by LKPro.com
All rights reserved. Reproduction in whole or in part without permission is prohibited.