By Bob Silvestri

The Buffalo Niagara Guitar Festival kicked off on Thursday June 14 for an incredible show in Lafayette Square. A crowd of 15,000 to 20,000 enjoyed the hot sun, the cold beer and the beautiful women for this Thursday ritual.
Starting the show were the awesome talents of The Tommy Z Blues Power Trio. Led by the always smiling and youthful exuberance of Tommy Z, the band showed just how much music can be made by three people and no gimmicks. The rhythm section,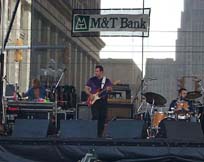 Ray Hagen (drums) and the incomparable and Buffalo Music Hall Of Famer, Nick Veltri (bass), kept a solid bottom going so Tommy Z. could show his dexterity on the frets. Playing the Blues straight out of the Austin school of Stevie Ray Vaughan and The Fabulous Thunderbirds, he showed how to take other artists songs and turn them into your own. His muscular body behooves the way he plays, as he tore off straight runs up and down the neck of the guitar or played behind his back or with his teeth. The band's 90-minute set was sprinkled with cuts from such luminaries as Freddie King and The Meters among others and proved a great way to start The Guitar Festival. Let's pass the torch to Tommy Z. and a whole new generation of blues players.
Headlining the show was Toronto native Jeff Healey. Blind since birth, he has formulated his own way of playing the guitar to make up for his disability. Sitting down with the guitar in his lap, his style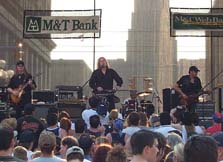 is more a keyboard approach in the way he hammers and forms his chords. His 70-minute set was superb. However, radio interference in the monitors and a blown amp did make Mr. Healey somewhat surly at times. He appeared to channel that anger into scorching versions of "See The Light" and "Roadhouse Blues." He also performed some of his more familiar material including "Confidence Man" and "Angel Eyes."
Another fine job from the Buffalo Place staff in bringing these shows to downtown Buffalo and for showcasing our fine homegrown talent like Tommy Z. And The Blues Power Trio.
Tommy Z. can be seen Thursdays after The Square throughout the summer at The Reservoir on Chippewa Street.