By Bob Silvestri

Under sapphire skies and white candy cotton clouds, local veterans the Steam Donkeys and nationally emerging talent Andy Griggs turned Lafayette Square in downtown Buffalo into their own honky-tonk on May 31, 2001. About ten thousand people braved the brisk wind and a peek- a- boo sun for this very entertaining show.
Leading off the festivities were Buffalo's own the Steam Donkeys. This eclectic group of musicians (Buck, Charlie, Doug, John, Jim and Frank) has been making fine music for a decade now. While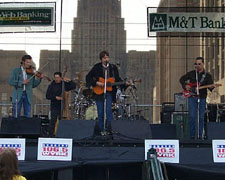 each member is integral to the overall sound of the band, the focal point has to be the songwriting of Buck Quigley. An immensely talented writer, he has a certain dry wit and a way with a phrase. We could go on about Quigley's ability to write well-crafted songs but that could comprise another column by itself. A sampling of this is the song "Wild Cherry". With its double entendres, the song on the surface is about a riverboat slot machine but could equally be about a woman.
The ninety-minute set was sprinkled with originals and a fare sampling of some old country standards. The group is neo- traditionalists with more in homage to Willie and Waylon than Garth and the hat boys.
Quigley's guitar solos, in an acoustic Willie Nelson style, contrasted nicely to the bite of Charlie Quill's electric guitar. Both Quill and Jim Whitford are masters players and are deserving of all accolades. Songs were played from all three of their releases including the songs "Jesus On The Ninety" about picking up a hitchhiking savior. "Hannah," a delightful ode to love. "Can't Find A Place To Stay" about having a traveling Jones and John Brady doing a fine run through on "Grandpa's Thunderbird." The band always throws in some cover songs and tonight was no exception with "San Antonio Rose" and Doug Moody taking a turn on vocals for "Blue Eyes Crying In the Rain." Other highlights from the show were the crowd pleasing "Pothead," complete with a smoke machine for the full effect, and a straight faced dead on version of "Tiny Bubbles" this time with a bubble machine filling the Square with bubbles. On "Tiny Bubbles", Jim Whitford added nice Hawaiian pedal steel to further complement the number. Closing the set was the always show stopping "Mystery Train Medley." This long time Steam Donkey staple had the crowd smiling and trying to guess each tune as the band runs through a dozen or more songs before returning to the title theme. Some of the snippets of the medley that I caught were everything from "Pinball Wizard," "Wabash Cannonball," "Caravan," "Chicken Train" and I do believe some Aaron Copeland for good measure. For their encore their returned for an a cappella version of Freddy Fender's "Before The Last Teardrop Falls" including a verse in Spanish before leaving for the night Another one of Buffalo's best band The Steam Donkeys were simply magnificent.
Up next was Andy Griggs an emerging talent on the country beat. With his boyish good looks he had many of the cowgirls in the crowd swooning. With a more pop country sound than the more traditional Steam Donkeys, Griggs proved very entertaining to say the least. Dressed in black laced down the side jeans and Hank Jr.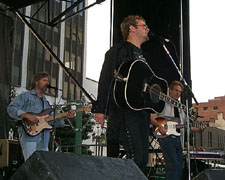 T-shirt he prowled the stage from end to end when not playing his guitar.
His band, made up mostly of studio session players, was up to his energy level if not just to stave off the cold and the setting sun. An engaging performer, he showed he has the talent to be around for the long haul. Except for a couple of too slick Nashville type songs most of the material was well written and arranged. While more on the rock end of the country scale, he can also do straight country ballads as shown by the solo acoustic set in the middle of his set. He let down his guard a bit telling us that all dreams have a price and in this case it was missing his wife who he said was ten states away. He also spoke of his belief in God and about his start in Nashville. His seventy-five minute set seemed over too soon. Hopefully he enjoyed his stay in Buffalo and a return engagement would be in store.
For more information on Andy Griggs check out www.andygriggs.com. Don't forget The Steam Donkeys are hosting the Americanarama Festival on June 15, 16 and 17th at The Mohawk Place (more info at
www.themohawkplace and every Thursday at Tim's Rendezvous on Niagara Street. Check out The Gusto or their web site at www.wnywebshop.com