Best of WNY.com/Reviews / Best of WNY Music.com
Tara Angell
-Come Down-
By Bob Silvestri
bobsilvestri@bestofwny.com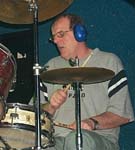 With ethereal airy vocals and a complex brooding sound Tara Angell latest Come Down is a disturbingly beautiful record. The gritty desperate themes of her songs are reflected in the titles. "Untrue", "Hollow Hope", "Don't Blame Me", "The World Will Match Your Pain" and "You Can't Say No To Hell" all deal in sensitive subject matter. "Silver Lining" posses none of the title hopes. "The Big One" closes the disc on a darkly beautiful melody. Both seductive and captivating you can find out more about Tara Angell and her CD Come Down at www.taraangell.com or www.rykodisc.com.
Copyright © 2006 Best of WNY.com
Hosted by LKPro.com
All rights reserved. Reproduction in whole or in part without permission is prohibited.