By Bob Silvestri

An amazing night of music took place on February 20,2003 at Mohawk Place in downtown Buffalo. The twin pairings of singer songwriter guitarists Alex Lynne and Jim Whitford and headlining duo Stacey Earle and Mark Stuart gave an appreciative crowd of one hundred or so patrons an unforgettable night of musical enjoyment.

Opening the evening was Buffalo singer songwriter Alex Lynne and guitarist Jim Whitford. Her cosmopolitan good looks and disarming humor belie her strong songwriting and performing skills. Mixing her own songs with some choice covers, her soft comforting voice and Whitford's expressive guitar playing had the rapt attention of the crowd. Highlights of Lynne's set included her own songs "Heartache", "December" and "Shameful Fire". She punctuated her set with great renditions of Julie Miller's "All My Tears" and a poignant version of Jackson Browne's "Lives In The Balance".
Husband and wife team of Mark Stuart and Stacey Earle were up next and the smiling, dancing and playful banter between them showed them to be a couple in love with each other and with making music.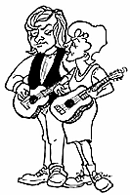 Earle is probably best known as the brother of rebel troubadour Steve Earle (Stuart was once a guitarist in his band), but this is no coattail ride, musical genes run deep in the Earle clan. Playing songs from their individual solo discs, their one collaborative disc and a soon to be released record, Earle and Stuart turned in one of the most entertaining evenings of music I've seen in quite some time. Mixing country, blues, the high lonesome sound of Hank, the sweet harmonizing of Gram and Emmylou and their own unique song making qualities, they wove a tapestry of American music. They played splendid versions of "If You Don't Want My Love", "Dancing With Them That Brung Me" and "Fish Bowl". "Boss Is Watching" found Stuart giving us snippets of "Eight Miles High", "Polk Salad Annie" and a few others during his solo. Earle and Stuart had the crowd singing along to Woody Guthrie's "Curly Headed Girl" and closed the set with "Good Bye". They returned for an encore of Bob Dylan's "You Ain't Goin' Nowhere". The Dylan classic again found the crowd singing along with smiles on their faces as big as the smiles on Stuart and Earle's. (cartoon by Jack Earle)
Earle and Stuart stayed after the show to sign autographs and chat with their appreciative fans. Their down home kindness and attitude is refreshing and genuine. A big tip of the hat to Marty Boratin and Pete Perrone for bringing great music like this to Buffalo. More info can be found on the web at www.staceyearle.com, www.markstuart.com and www.alexlynne.com for more great upcoming shows like this at The Mohawk go to www.mohawkplace.com.