Best of WNY.com/Reviews / Best of WNY Music.com
Squeeze
-Bear's Den-Seneca-Niagara Casino-
- Niagara Falls, NY - 8-7-10 -
Concert Review - By Bob Silvestri
bobsilvestri@bestofwny.com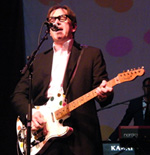 If you were to make a list of the greatest writing duos of rock music the list would obviously start with Lennon and McCartney. Next perhaps are Mick and Keith and my third choice would have to be Chris Difford and Glenn Tilbrook of Squeeze. They have crafted some of the most indelible songs of all time. On August 7th, 2010 we were treated to a ninety minute set of those classic Squeeze songs. The band is out on the road promoting their latest release Spot the Difference which was released five days prior. The nearly full house was on their feet from the opening number the galloping "Take Me I'm Yours" that was followed by "Annie Get Your Gun". One of their biggest hits "Black Coffee in Bed" came next and was met with thunderous applause at the beginning and conclusion of the song. A very bluesy and sublime "When the Hangover Strikes" followed and may have been the highlight of the evening. They continued their onslaught of pop masterpieces with "Goodbye Girl", "If I Didn't Love You" and "Cool for Cats".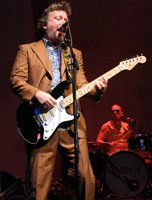 Front man Tilbrook handles most of the vocals and guitar solos while Difford sings background and plays rhythm guitar longtime bassist John Bentley along with drummer Simon Hanson and keyboardist Stephen Large round out this current incarnation of the band. The warm receptive crowd seemed to spur on the band that engaged the crowd with anecdotes between songs and genuinely seemed to be having fun. They wrapped up the set with two more fan favorites "Slap and Tickle" and their biggest hit "Tempted" before returning for a two song encore consisting of "Another Nail in my Heart" and the pop gem "Pulling Mussels From The Shell".
Another thrilling show at the intimate Bear's Den which is quickly gaining a reputation as one of the premier venues to see a show. For more upcoming shows there go to www.senecaniagaracasino.com

Copyright © 2010 Best of WNY.com
Hosted by LKPro.com
All rights reserved. Reproduction in whole or in part without permission is prohibited.