Best of WNY.com/Reviews / Best of WNY Music.com
CD Review
Skyjuice
"Appetite"
By Bob Silvestri

Ready for the big time is the best way to describe the new release from Skyjuice titled "Appetite". The seven songs are radio ready and the stunning knockout looks of Jeannine Gicewicz (lead vocals and acoustic guitar) and Shelly Savage (vocals and acoustic guitar) have MTV written all over them. The rest of the band consists of Rob Burgio (guitar and vocals), Kevin Riddle (keyboards and samples), Jim Levinthal (drums) and Eric Hankinson (bass). Further prove that Skyjuice is ready for prime time is their stunning and highly polished live performances of which you must see to fully appreciate.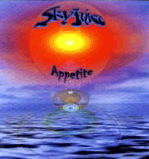 The CD begins with "Let Me Be", an atmospheric guitar heavy rocker with echo-saturated vocals. The somewhat funky "Bare It All" slinks along on an acoustic guitar hook and dreamy background vocals. "Smack" starts with drums and sample sounds before the wah-wah guitar of Burgio and Gicewicz's husky vocals are added to the mix. "Smack" features a nice guitar solo and middle break. The CD's best track is "Found Someone" which was a showstopper at their CD release show. This tale of broken love gets a great vocal workout from Gicewicz. The hurt and heartbreak in her voice and the killer melody and acoustic guitar sound make this a perfect song. "Found Someone" is a great collaboration between songwriters Rob Burgio and Jeannine Gicewicz. "Hereafter", "Hazy Eyes" and the title track "Appetite" round out this classic rock and roll CD.
Having won numerous Buffalo Music Awards over the last few years, Skyjuice is ready and very deserving of the big time. For more on Skyjuice go to www.skyjuicemusic.com
Copyright © 2006 Best of WNY.com
Hosted by LKPro.com
All rights reserved. Reproduction in whole or in part without permission is prohibited.