Best of WNY.com/Reviews / Best of WNY Music.com
Cd Review
"SIDESHOW"
By Bob Silvestri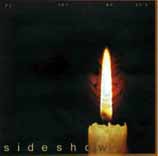 One of the nice things about doing this is being able to hear a lot of music from people with home studios who may not actively play out but just make music for their own self-indulgent pleasure. While some of this stuff is real garbage that's not the case with the CD from P.J. Lorenzo titled Sideshow.
As stated in his liner notes this is a do it yourselfer from start to finish. While there are some minor production or editing quirks, it does not diminish this sonic and tonal CD. Sounding very classic rock orientated with sounds of Rush, Supertramp and Pink Floyd creeping in among the sound effects and ambient noises scattered throughout. As a matter of fact this is one of those CD's that sounds better on headphones because of all the sounds and various instrumentations. The guitar playing is reminiscent of David Gilmour from Floyd on cuts like "Labrynthitus". Lorenzo shows his Clapton influence on the track "Tell Me". "Running Start" could have easily have been an outtake from Steely Dan's "Can't Buy A Thrill" and "They Said" bounces along on a REM'ish, sound. "O'Day" sounds like one of those dreamy acoustic Pink Floyd numbers not out of place on say "The Wall".
Helping out P.J. Lorenzo on this project were Joe Dzialak (Drums), Mike Lorenzo (bass) and Marc Furth (keys). All ably lending their supporting services. For more on P.J. Lorenzo and his project Sideshow go to his web site at www.sideshowinfo.com
Copyright © 2006 Best of WNY.com
Hosted by LKPro.com
All rights reserved. Reproduction in whole or in part without permission is prohibited.