Best of WNY.com/Reviews / Best of WNY Music.com
CD Review
Scott Celani
"Them Apples"
By Bob Silvestri

Scott Celani's has a new CD out titled Them Apples that is melodic, hook-laden rock at its best. The six-song disc continues in the fine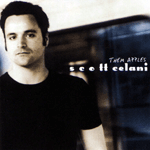 tradition of Buffalo born rockers like the great Willie Nile. "Other Places" starts the disc with heavy drum and bass and an overlay of guitar on top of Celani's confident vocals. "Where Did You Come From?" is a stomping rocker with an arena rock hook on the chorus. "One More Day" sounds dare I say, Springsteenesque, in moods and styling. "One More Day" features a nice fluid guitar solo in the middle and is one of the best tracks on the disc. "Nameless", another great rock song, deals with alienation and showcases Celani's impassioned vocals. "Nameless' is another standout on the CD. "Just Like Me" a melodic pop rock number that would be at home on any Squeeze record uses a sometimes-distorted vocal technique with success. "Doing Fine" is simply another great rocker with a killer hook. The unofficial bonus cut starts as an acoustic rock song and shows a style not offered by Celani on the previous six songs. However it quickly turns into an obscenity and giggles laced tirade as he goofs up the song. The disc ends with a voice saying, "That's it? That's all there is." As another voice replies, "That's it." repetitiously until the disc abruptly ends. Helping out Scott Celani (vocals/guitar) on Them Apples are Justin Abedin (guitar), Drew Birston (bass), Creighton Doane (drums) Andy Mac (background vocals) and Brent Bodrug (programming).
To paraphrase the old cliché and the title of Celani's new disc "How do you like Them Apples?" Very tasty indeed! For more on Scott Celani go to www.scottcelani.com.
Copyright © 2006 Best of WNY.com
Hosted by LKPro.com
All rights reserved. Reproduction in whole or in part without permission is prohibited.