By Bob Silvestri

Tom Sartori has released his third CD titled Live At Woodlawn. Long recognized as one of Buffalo's top solo acts, Sartori recorded the disc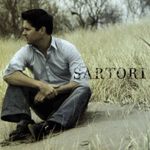 with a full band at Woodlawn Beach in Hamburg, NY on September 7,2002. Sartori (vocals/guitar) is assisted on the disc by his band Brey Michaels (bass/vocals), Eddie Godfrey (percussion/vocals), Jim Kerins (drums) and Frank Grizanti (guitars/mandolin). The ten songs fall into the pop/rock styles of Barenaked Ladies or Hootie and the Blowfish. Sartori's vocals are very similar to Hootie's Darrius Rucker (a great singer), a smooth soulful voice with a few rough edges. Live At Woodlawn also shows Sartori's improved songwriting skills over his last release, which sometimes devolved into frat rock territory.
The disc starts with "Wait For Me' and its Dave Matthews Band sounding intro and deals with broken hearts and missed relationship opportunities. "Seven Years" is a nice pop rocker also dealing with broken relationships. "Left Hook", another hopeful song of love, finds Sartori hitting the high notes and his acoustic guitar driving the song along. The set really hits its stride with "Are You Ready For Love", which sounds very similar to The Hip's song "Scared", "I'm Gone" one of the CD's best tracks, that tells the tale of the guy ending the relationship and "Cry Out" that has Sartori being the sympathetic guy to the jilted woman. "Cry Out' uses the dynamics of a quiet acoustic verse and a rock out chorus to the max and is a great song. The bonus track is "The Bledsoe Song" a novelty song that deals with the arrival of Drew Bledsoe to the Buffalo Bills. "The Bledsoe Song" is set to the music of John Mellencamp's "Jack and Diane".
Marked by improved songwriting, playing and the live performance itself, Tom Sartori's Live At Woodlawn is a winning effort. For more on Tom Sartori go the his web site www.tomsartori.com