Best of WNY.com/Reviews / Best of WNY Music.com
Phish
-The Clifford Ball-(DVD Box Set)-
CD Review - By Bob Silvestri
bobsilvestri@bestofwny.com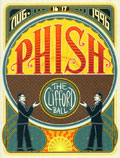 Phish fanatics rejoice! Not only has the band reformed and is back out on the road but they have released a chronicle of one of their most beloved performances, a show at the decommissioned Plattsburgh Air Base in Plattsburgh, NY on August 16 & 17, 1996. The seven DVD box contains all three sets and encores from both nights along with bonus footage and clocks in at over nine hours! A bonus disc features rarities from sound check, interviews with the band and others and their performance of "Flatbed Jam" recorded on the back of a truck in the early morning hours. Many unreleased tracks and versions of songs to whet the appetite of any Phish fan appear here. Even if you already had the long circulated bootlegs of the show this professional recording is a must for your collection. Go to www.phish.com for more information about the band and The Clifford Ball.

Copyright © 2010 Best of WNY.com
Hosted by LKPro.com
All rights reserved. Reproduction in whole or in part without permission is prohibited.