Best of WNY.com/Reviews / Best of WNY Music.com
"Then Perreault Said to Rico…"
-The Best Buffalo Sabres Stories Ever Told-
By Paul Wieland
Book Review - By Bob Silvestri
bobsilvestri@bestofwny.com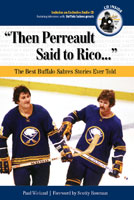 With the recent demise of the beloved Memorial Auditorium this book is essential reading for Sabres fans about the birth of the franchise thru the glory years, the dismal failures both on and off the ice and the move to HSBC Arena told with humor, humility and a passion for hockey that has excited the WNY community for forty years. Wieland who worked for the Sabres in various capacities for twenty five years offers a unique fly on the wall perspective from himself and former players that is fabulous reading. Some stories are familiar others legendary others tales of yore. Chapters on The French Connection, Tim Horton, various coaches and the legend of Taro Tsujimoto plus many on and off ice highlights and hijinks are told from Wieland's or Sabres player's interviews. The book also comes with an audio CD of some of those player interviews. You can go to www.triumphbooks.com for more information.

Copyright © 2010 Best of WNY.com
Hosted by LKPro.com
All rights reserved. Reproduction in whole or in part without permission is prohibited.