Best of WNY.com/Reviews / Best of WNY Music.com
Cd Review
ORACLE JUNCTION
"Trinity"
By Bob Silvestri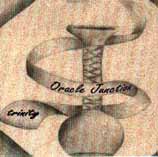 Oracle Junction has released a new CD titled "Trinity". The band consists of Dan Kolb (lead guitar/vocal/bass), Joe Marshall (bass/vocal/guitar) and Paul Wert (drums). Also helping out are "The Sirens", Julie Purpera and Jen Beckor, Ken Rutkowski (keys) and The Reverend Keith Becker (guest speaker) and was recorded at Outer Limits Studio in Buffalo.
The nine song CD starts with the Wilco meets Smithereens sound of "Beauty and Blood". "Flight 286" is an eerily haunting song and fades on the refrain, "amicable good-byes" over and over before launching into "Energy" "Energy" is a guitar driven rocker ala The Kinks. "Hip-Hip Hooray" rocks with the abandon of swiney garage bands everywhere. I just wasn't sure if it was meant to be sarcastic or an ode to things beloved.
Other cuts of interest are the wah-wah guitar sound of "Kingdom Come The Raven", the Leonard Cohen/ Alan Parsons sounding spoken word rendition of "The Ocean" with The Reverend Keith Becker on the oration and the rolling blues of "Good Marrons Eve". Don't forget to stick around for the hidden bonus track.
The only minor complaints are that the lyrics tend to get obscure and mystical at times. Also the guitars could have been just a little more crisp and clear sounding for my liking. Of course the sound achieved could have been the desired result Oracle Junction was looking for. For more on Oracle Junction go to www.oraclejunction.com
Copyright © 2006 Best of WNY.com
Hosted by LKPro.com
All rights reserved. Reproduction in whole or in part without permission is prohibited.