By Bob Silvestri

Once again a man in a red suit and beard will be bringing joy, happiness and presents to the Western New York area. No, I don't mean Santa Claus, I'm talking about Lance Diamond! On his new Christmas CD titled A Lance Diamond Christmas, Lance brings his special touch to some Christmas classics with a slew of his "elves" helping out.
Beaming his million-watt smile with red suit, beard and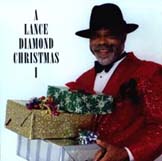 presents on the CD cover, Lance has given us all a great Christmas present. This is sure to be a favorite at many a Christmas party this holiday season. Hell, it's so infectious you could play this at your summer pool party and it would sound great.
A few year ago he teamed with long time collaborators The Goo Goo Dolls on a local Christmas single for Friends Of The Night People and while they don't appear here, he has chosen the crème de la crème of local musicians for this full length release.
Starting the disc with the backing of the 24K Diamond Band and The Hitman Horns, he delivers his usual smooth sound. He then employs David Kane's Them Jazzbeards for a unique run through of "Little Drummer Boy." Girlpope shows up for my favorite track, a rollicking version of "Santa Claus Is Coming To Town."
NOTE TO LOCAL RADIO HERE: PUT THIS ON YOUR PLAYLIST FOR THE HOLIDAYS.
Mr. Diamond also turns in a jazzy "Have Yourself A Merry Little Christmas" with the great Bobby Jones Trio. Also showing up to lend a hand are C.O.Jones, Taylor Made Jazz, Gary Mallabar, Doug Morgano, Gretchen Schulz and Nick Veltri among many others. Lance also has enlisted a children's chorus for a light, heartwarming version of "Rudolph The Red Nosed Reindeer." The children sing in a call and response chorus. A nice touch.
Sometimes you can get tired of the same old versions of Christmas songs, but Lance Diamond has definitely changed that. He has always been a great performer and a true showman, The King of Cool, The Prince of Charm but somehow this is a perfect fit - Lance Diamond and Christmas! His warmth and love comes through in each song. He has always been proud of his city and we should be proud of him. A wonderful present from him to us. Merry Christmas, Lance!