By Bob Silvestri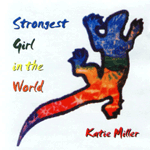 Buffalo Music Award winner Katie Miller's most recent CD titled Strongest Girl In The World is in keeping with the fine femme/rock traditions of Ani DiFranco and Joni Mitchell before her. The eleven song disc mixes solo acoustic guitar and vocal numbers with more adventurous tracks with a full band comprised of Kathy Moriarity, Marlee Francis and Michelle Pugliese on background vocals, Tony Miranda on drums, Dave Rosenburg on bass and Tim Baldwin on guitar and harmonica.
"Grass Angels" starts the CD and features Miller's pluck and strum guitar sounds and dusky vocals. "Movie Screen" receives the full band treatment and is one of the best tracks on the disc. "Before" features a spoken story intro before settling into Miller's hushed vocals. "Closer To God", another outstanding track, has Miller wrestling with the questions of faith without postulating. The CD's best track is "Feed The Fire" a full band number that features some understated jazzy guitar noodle lings from Tim Baldwin. The title track, another full band song, has a clipped almost calypso feel to it before becoming a sweet vocal harmonization between Miller and her background singers. "Libby's Song" has a nice guitar melody and is one of Miller's best vocal performances on the disc.
The mix of acoustic and band songs makes for a nice listen from this award winning talent. To learn more about Katie Miller go to www.katiemiller.com.