Best of WNY.com/Reviews / Best of WNY Music.com
Remembering Old Buffalo
-The Glory Years in Western New York-
By Joseph H. Radder
Sadly Joseph H. Radder passed away shortly after publication of this book.
Book Review - By Bob Silvestri
bobsilvestri@bestofwny.com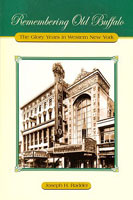 Before his passing, Joseph Radder was a well known writer for many local publications including writing numerous OP-Ed pieces for the Buffalo News. His book, Remembering Old Buffalo-The Glory Years in Western New York, is his nostalgic recollections of the Queen City and his days growing up in WNY. Each chapter breezes by like listening to an older family member reminisce. While some of his personal stories and facts may be a little embellished, Radder himself says in the book some of his dates etc may be a little fuzzy (He was 88 when he wrote the book.) they are still delightful stories. The book is filled with tales of Crystal Beach, Downtown's boom days, local music, local culinary delights and other nostalgia. The book is chocked full of pictures, anecdotes and facts about Buffalo. The book is a nice read for those who remember those times and for those who want to catch up on their Queen City history. You can order the book on line by going to www.buffalobooks.com

Copyright © 2010 Best of WNY.com
Hosted by LKPro.com
All rights reserved. Reproduction in whole or in part without permission is prohibited.