Best of WNY.com/Reviews / Best of WNY Music.com
CD Review
Sphinx - Jazz Ensemble One
under the direction of Joel DiBartolo
By Bob Silvestri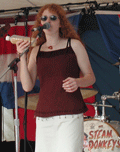 The name Joel DiBartolo may not ring a bell with you. Unless you are a liner note aficionado or deeply involved in the business end of music, this Buffalo-born talent would go unnoticed to most. However, each and every one of you has heard this amazingly talented musician without even realizing it. While his list of credentials is too long to list here, a brief overview is needed to fully understand his contribution to the world of music.
A Bachelor of Fine Arts degree from the University at Buffalo including work with the highly regarded Lukas Foss. Bassist for 18 years with The Tonight Show under the leadership of Doc Severinson with whom he still performs with at symphony and pops concerts. Theatrical work on such Broadway shows as Cats, Evita and Les Miserables among others. Television shows such as M.A.S.H., Dallas and Star Trek- Next Generation. Movie soundtracks for more than 60 films including Saturday Night Fever, Jaws and Star Wars. Performers he has worked with include Frank Sinatra, Maynard Ferguson and Chuck Mangione. And he has also won a Grammy for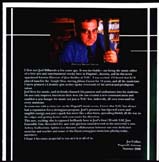 his work with Severinson. A very impressive resume to say the least. So where does one find native son Joel DiBartolo now? Teaching a whole new generation of musicians at Northern Arizona University and their highly acclaimed jazz program.
Which brings us to this his new CD titled Sphinx by N.A.U.'s Jazz Ensemble One. Recorded over three days live at the university's own Ardrey Auditorium, the sound brims and boils with the natural sound of this highly regarded hall. The 20-member band under Mr. DiBartolo's direction shows how a whole new legion of jazz players can interpret some old classics and add a freshness and vitality to them. All of the songs run from five to 10 minutes and allow all players to show their talents whether on the quiet piano interludes or full blown horn arrangements. The music is full of dynamics and ebbs and flows along on the melody or the various solos. Two of the more dominate players and soloists are Dominic Lalli on tenor sax and John Dworkin on guitar. Both are amazing talents who seem destined for greater things. Lalli is obviously going to be heard from in the near future. Whether playing guttural low notes or the melody his playing is clear, sharp and focused. He handles most of the solos for obvious reasons. Think a young Stan Getz or Sonny Rollins. I hope he continues to study under the leadership of DiBartolo. The eight cuts on the CD include the Charlie Mingus composed "Goodbye Porkpie Hat" and a working of two Mingus classics "Slop" and "Fables Of Faubres" blended into one piece titled "Mingus-Three Hats." Others include the Cole Porter penned "What Is This Thing Called Love" with a Tommy Newsom arrangement. And the afore mentioned John Dworkin original "Mind The Gap."
The CD was produced by DiBartolo and is mostly an in house production of the Northern Arizona University music department. This is definitely one for your record collection and can be obtained from N.A.U. by phoning the Jazz Studies Office at (520) 523-3779 or e-mail them at jazzstudies@nau.edu.
While some critics dismiss younger jazz players as not having earned their chops yet, Jazz Ensemble One are one group of young turks who have learned their craft and the knee of the master. Congratulations Joel on a fine CD and for turning out some mighty fine musicians in the process.
Copyright © 2006 Best of WNY.com
Hosted by LKPro.com
All rights reserved. Reproduction in whole or in part without permission is prohibited.