Best of WNY.com/Reviews / Best of WNY Music.com
Concert Review - Gateway Park 7/28/01
By Bob Silvestri
Gateway Park in North Tonawanda was the scene Saturday July 28th for a triple bill of women inspired rock. Located in the historic Canal District of North Tonawanda, this new Saturday concert event may soon rival Thursday At The Square for performers and ambience. A beautiful night found a crowd of three to five thousand on dry land and numerous boats on the Canal to catch the show.

Canadian artist Alannah Myles headlined the show and played a superb ninety minute set of classic hard rock. Dressed in a cut to "there" slip dress, black stockings and thigh high black leather boots, she cuts quite a striking figure. Many a man rose from their lawn chairs for a better look. With her dark tousled hair, red lips and sultry eyes, she would make a perfect Catwoman to challenge Batman. But it's not all about her looks, she is confident in herself and her material and led her band with a certain aplomb. Best known for her hit "Black Velvet", which she saved for the end, she also turned in fine versions of "Rockinghorse" and "Bad For You". After prancing, leg kicking and doing her best "Canadian Ballet" moves atop the speaker columns, she showed us her tender side on "Lover Of Mine", one of two encore songs.


Playing the middle slot was the great local artist singer songwriter Alison Pipetone. Playing an exciting fifty minutes of her special alternative/guitar rock, she turned in a sparkling set to the delight of the crowd. Highlights included "Shake It Around", which is the title of her latest CD (if you don't have it-go buy it now) and a raucous version of "What Do You Do, When You Don't Know What To Do". A major local talent and live performer, you must go see her. Until then check out her web site at www.alisonpipetone.com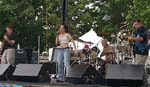 Opening the show was Flush playing a forty-five minute set of alternative pop. With a Shirley Manson look a like for a lead singer, they sounded like a cross between her band Garbage and the Cranberries. Upcoming shows at Gateway Park include: The Head stones on August 4th; The Knack with special guests Girlpope on August 11th and Edgar Winter on September 1st.
Copyright © 2006 Best of WNY.com
Hosted by LKPro.com
All rights reserved. Reproduction in whole or in part without permission is prohibited.