Best of WNY.com/Reviews / Best of WNY Music.com
Concert Review
Gateway Park in N. Tonawanda 8/11/01
by Bob Silvestri
.
Gateway Park in North Tonawanda was the place to be on August 11th for a splendid evening of power pop by three smartly dressed bands.
Up first were The Dissapointments. Dressed in matching black suits, white shirts, and black ties they played a thirty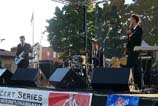 minute set of quirky power pop that sometimes challenged you with chord changes or off kilter arrangements. Their enjoyable set provided a nice way to kick off the night. Check out their way cool web site: www.staybitter.com
Power pop maestros girlpope were up next. Playing a sweat drenching fifty minute set of inspired music that was quite possibly the highlight of the night. Wearing matching white bowling style shirts, they entertained with both music and humor. The band Mark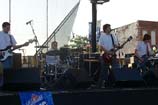 Norris (vocals, guitar, witty sarcasm), Rich Campagna(thumping bass), The Kid(crunching guitars and cheesy organ)and Brandon Delmont(stylish drumming) even had some of the Buffalo music glitterati on hand to check out the show. Highlights included No Tomorrows, Real Whigged Out, So Far As Now and It's Alright on the music end and the "Smiles For Picks" campaign (intentional), the almost head beaning, eye removing free CD toss (unintentional) and the spill your beer for the free t-shirt (appropriate) for entertainment. The whole band should be arrested for stealing the show! For more fun and info check out: www.girlpope.com

The Knack are well known in the annals of rock music because of their classic/annoying song My Sharonna. Their seventy five minute set was well received by the crowd of about three thousand. Many waved their old Knack LP sleeves and sung every word, even on the newer less familiar material. Also dressed in matching white shirts and black suits and ties they seemed happy to be playing to such an appreciative crowd. They gladly hung out after the show to sign those LP jackets. Their set was made up of the familiar (My Sharonna, Frustrated, She's So Selfish) to the more obscure (Another Lousy Day, Can I Borrow A Kiss). They closed the night with a medley of the songs Tequila and Roadhouse Blues.
Copyright © 2001 Best of WNY.com
Hosted by LKPro.com
All rights reserved. Reproduction in whole or in part without permission is prohibited.