Best of WNY.com/Reviews / Best of WNY Music.com
Derringer
-Bear's Den-Seneca-Niagara Casino-
Niagara Falls, NY-4-23-08-
CD Review - By Bob Silvestri
bobsilvestri@bestofwny.com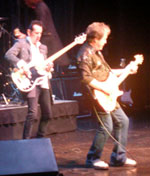 Derringer, the iconic 70's rock band, has hit the road with its original line up and played a two night stand at the intimate confines of the Bear's Den at The Seneca-Niagara Casino in Niagara Falls, NY as a warm up for an extensive upcoming tour. The second night performance on April 23rd found the band (Rick Derringer, Kenny Aaronson, Danny Johnson and Vinnie Appice) in fine form as they played a host of material from their classic albums during the ninety minute set including the tracks "Let Me In", "Sitting by the Pool", and "One Eyed Jack". They tore thru the Rick Derringer penned classic "Still Alive and Well" made famous by Johnny Winter and still a staple of bar bands every where. Naturally they played Rick Derringer's most notable contribution to rock n roll with his solo hit "Rock and Roll Hoochie Koo" which closed the set and The McCoy's classic "Hang on Sloopy" for their encore. The Seneca-Niagara casino has a number of great upcoming shows. Go to www.senecaniagaracasino.com to find out more information.
Copyright © 2008 Best of WNY.com
Hosted by LKPro.com
All rights reserved. Reproduction in whole or in part without permission is prohibited.