By Bob Silvestri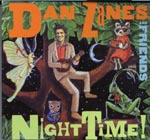 Dan Zanes has released his third CD in his family/folk series of music titled "Night Time!" Once again employing an eclectic mix of friends, family and artists to make some of the best and most comfortable music out there today. The songs are a mix of traditional, multi-ethnic, familiar standards and DZ originals.
The multi-ethnic side finds DZ making the West Indies sounds of "Pay Me My Money Down" and the lovely "Evening Time", the Canadian Maritime Province sounds of "Guysbourgh Railway", the South African gospel sounds of "Siyahamba" and "Wild Mountain Thyme" a Scottish/Irish melody.
The familiar include "Side By Side", "What A Wonderful World" with help from Lou Reed, the African-American folk song "Down By The Riverside" with Simon Kirke and Barbara Brousal bringing added joy to this one. DZ along with John Doe turn in a beautiful version of the Woody Guthrie classic "So Long It's Been Good To Know Yuh".
Always an amazing song crafter, Zanes turns in another impressive batch of songs here. "Night Owl", of which he professes to be one of, is a delightful number with help from Amiee Mann. "Smile, Smile, Smile" a tale about remembering to smile at the audience when making music and "Leadbelly Songs" a working of Leadbelly song titles are both fine songs. DZ really hits the mark on "Linger For Awhile" one of his best-written tracks ever. The lyrical imagery of Brooklyn stoop life and his walks to school and through the neighborhoods with his daughter are priceless.
As with this and both previous Dan Zanes' CDs he is superbly assisted by Barbara Brousal, Donald Saaf, Father Goose AKA Rankin' Don, The Sandy Girls and The Dandelion Chorus and comes in a storybook package with artwork from Donald Saaf. For more got to www.festivalfive.com