Best of WNY.com/Reviews / Best of WNY Music.com
The Charlie Daniels Band
-WNY Events Centre-
Clarence, NY 9-28-07
By Bob Silvestri
bobsilvestri@bestofwny.com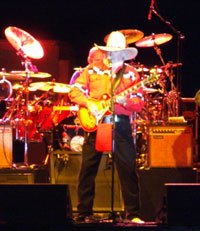 A crisp autumn night and the threat of rain could not keep the throngs away from The Charlie Daniels Band concert at The WNY Events Centre in Clarence, NY on September 28, 2007. The concert was held as the kickoff event for the Great Pumpkin Farm and the annual Oinktoberfest BBQ cooking competition. Hitting the stage to the strains of "Tennessee Waltz" The Charlie Daniels Band performed a seventy five minute set of classic songs from the CDB catalog along with a couple of tunes from band members and some Gospel numbers as well. Having just released a live CD from their trip overseas to entertain our troops, Daniels showed his long held patriotism by thanking the men and women who serve our country by performing "In America". His distaste for child molesters, drug dealers and general law breakers was evident before launching into "Simple Man". Crowd favorites included "South's Gonna Do It Again", "Trudy", "Long Haired Country Boy", "The Legend of Wolley Swamp" and "El Toreador". He introduced the gospel standard "How Great Thou Art" as one of his favorites before delivering a spine tingling version while seated and playing an acoustic guitar. To close the show Daniels got the crowd on their feet by playing "The Star Spangled Banner" on his violin before playing a scorching version of his hit "The Devil Went Down To Georgia". Opening the show were one of Western New York's premier country/rock bands Bareback Jack. This was the band's first show with new guitarist Justin Kubiak and bassist Daytona and seemed to lean towards the rock part of country/rock. Their forty five minute set featured a nice mix of original songs and some classic country covers that were well received by the crowd.
Copyright © 2006 Best of WNY.com
Hosted by LKPro.com
All rights reserved. Reproduction in whole or in part without permission is prohibited.