Concert Review By Bob Silvestri
bobsilvestri@bestofwny.com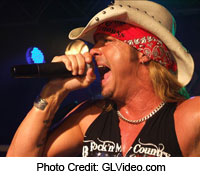 I suppose a few years ago it would have been easy to dismiss Bret Michaels and say he was on the downside of a once vibrant career. But in the last couple of years he has reenergized his career with his hit VH1 show Rock of Love, his winning the television show The Celebrity Apprentice and his near death health scare that appears to have changed Mr. Michaels. Disclaimer here-I have seen Bret Michaels on numerous occasions and have met him in person on a few of those occasions. I was not impressed. With an all me attitude and a huge ego he was easy to dislike in my book. But the Bret Michaels that played a packed to fire code violation sized crowd at Club Paradise in Blasdell on September 23rd, 2010 seems to have changed. Gone was the rock star swagger and instead was a much more grown up rock star. He was sincere in his appreciation for the Western New York area, bought many cases of beer and water to be passed out to the sweltering crowd out of his and the band's own pocket, spoke about his fund raising efforts for diabetes of which he has fought a lifetime battle, made sure to show special time to a handicapped girl in the front row, talked about our troops without politicizing it and even pacified a fight that broke out in front. I was impressed. But what about the music? Although the set was a some what abbreviated sixty minutes, Michaels and the band put on a killer show. I have to admit it would be easy to knock the bandana, straw cowboy hat and ripped shirts along with the endless plugs for his new VH1 show Life As I Know It (which they were filming for during this show) or the Pamela Anderson sex tape he made a few years back but the guy has written some decent pop rock songs over the years and he has his performance down pat and he puts on a show that is exactly what his fans expect from him.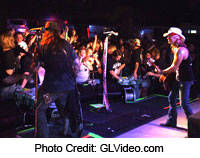 After a long introduction and a full version of Guns and Roses "Welcome to the Jungle", Michaels hit the stage and tore into "Talk Dirty to Me" with the entire crowd singing the refrain and moving in unison. Next up he offered another Poison classic "Look What the Cat Dragged In" before launching into a cover of the Lynyrd Skynyrd classic "Sweet Home Alabama". Michaels is out on the road plugging his new CD Custom Built and offered an inspired version of the theme song from Rock of Love "Go That Far" from the new disc that was the highlight of the night for this reviewer. A cover of Sublime's "What I Got" also on Michaels new CD had the crowd singing along as did the ubiquitous Poison hit "Every Rose Has It's Thorn". Other Poison songs getting a workout were "Unskinny Bop", the show closer "Fallen Angel" and the encore "Nothin' but a Good Time" that sent the crowd home happy.

Props to Buffalo Music Hall of Fame band Hit N Run for their high energy opening set. Not often do you hear a crowd chanting the name of the opening act let alone paying attention to them while they play. Highlight of their set was, hands down, their version of Lady Gaga's "Bad Romance" that had the crowd going wild. Really. They proved to be the perfect opening act for Michaels.

For more information about upcoming shows at Club Paradise go to www.clubparadiseonline.com For more about Hit N Run check out www.hitnrun.net
For Bret Michaels go to www.bretmichaels.com