Best of WNY.com/Reviews / Best of WNY Music.com
Buffalo Music Hall of Fame Concert
-Niawanda Park-
North Tonawanda, NY 7-24-04
By Bob Silvestri
bobsilvestri@bestofwny.com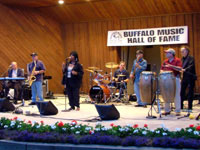 While Mother Nature has not been very kind for outdoor events this summer, she came through on July, 24 for a concert by The Buffalo Music Hall of Fame in Niawanda Park in North Tonawanda, NY featuring some of the best musicians in Buffalo. Getting things going was the always incredible Lance Diamond and The Diamond Band. Lance had the crowd swaying and clapping to the music and was a great way to start the night. Billy McEwen brought his brand of pure rock n roll with his whiskey soaked voice to the delight of the couple of hundred folks in attendance. McEwen knows how to work the crowd and tonight was no exception. A trio of woman vocalists closed the evening with some sassy, jazzy and soulful rhythm and blues. Janice Mitchell, Diane Kallay and Barbara St. Clair all tried to out Diva each other with some powerful singing. The house band, Doug Morgano (guitar), Nick Veltri (bass), Nick Salamone (sax), Ron Davis (keyboards) Ralph Hernandez (percussion) and Pete Holcum (drums), was solid all evening and featured an amazing array of local talent.
Copyright © 2006 Best of WNY.com
Hosted by LKPro.com
All rights reserved. Reproduction in whole or in part without permission is prohibited.