Best of WNY.com/Reviews / Best of WNY Music.com
Lowside of the Road
-A Life of Tom Waits-
By Barney Hoskyns
Book Review - By Bob Silvestri
bobsilvestri@bestofwny.com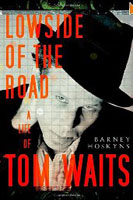 Tom Waits is one of the most enigmatic performers of all time. This compelling new biography by noted British music journalist Barney Hoskyns titled The Lowside of the Road-A Life of Tom Waits delves into the mysterious Waits with aplomb. Waits is probably best known for his songs covered by other artists including Bruce Springsteen, Rod Stewart and the Eagles. He is also a masterful performer is his own right and has released over twenty albums and has appeared in dozens of major motion pictures since coming onto the scene in the 1970's. A closely guarded private individual Waits conducted personal interviews with Hoskyns for the book and gave access to those close to his inner circle that makes for some compelling insights into this mythical artist. Check out www.broadwaybooks.com for more information.

Copyright © 2010 Best of WNY.com
Hosted by LKPro.com
All rights reserved. Reproduction in whole or in part without permission is prohibited.