By Bob Silvestri
I love this city!
Another weekend festival. This time the Artvoice Street Festival. This year's festival was held June 24, on the closed down streets of Chippewa and Franklin streets and Delaware Avenue. Four stages of music with almost 40 bands, food, crafts, tattoo and henna artists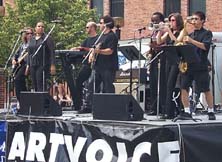 and the endless spectacle of tens of thousands of people soaking it all up.
Bars and restaurants all along the Chippewa strip opened their doors so patrons could quaff a few to beat the sweltering heat or to grab a bite to eat to curb their munchies. This also was a good way to check out some of these shops and pubs and the fine wares they offer. In addition to it all was a Mardi Gras-style parade down Chippewa. This year's festival was like a cross between the Allentown Art Festival and The Taste of Buffalo, only with a more eclectic crowd. Besides all the aforementioned festivities was the music. Four stages set up throughout the blocked off area offered continuous live music from noon until 10 pm. Due to the overlapping nature, we were only able to catch full sets from a few bands. Among them was a nice set from Animal Planet who closed their set with a trip hop version of AC/DC's Back In Black.
Another great set came courtesy of Scary Chicken. This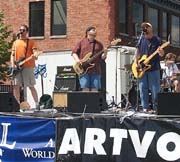 venerable Buffalo band has been together for a decade now and shows no sign of slowing down. Playing their own witty melodic alternative rock , they turned in a fun filled energetic set. They got the crowd dancing and rushing the stage for the free CDs. Check out Scary Chicken, an always fun to see and hear band. Due to time constraints and general wanderings, we were only able to catch partial sets from Global Village Idiots, Rosaleen Marion Band, Bad Ronald and Doombuggy.
Headliners at the festival included Econoline Crush. Their set of ear drum-splitting material had the fist-pumping youthful crowd pogo-ing and singing along. Next up was the Vancouver, B.C. band,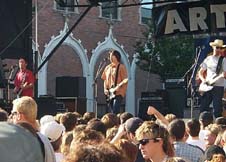 54-40. Longtime local faves they've showcased their wares at The Tralf and Thursday At The Square on previous visits. Their 60-minute set included great versions of Oh Sheila, Casual Viewing and Ocean Pearl.
Closing the festival was the Toronto-based and Buffalo favorite, Blue Rodeo. Playing 30 minutes longer than their scheduled 60-minute set, they managed to squeeze in many of their own and the crowd's favorites. Among these were Trust Yourself, Heart Like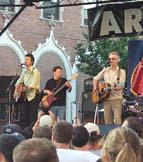 Mine, 5 Days In May, Beggin' You To Let Me In and a not-played-too-often version of Side Of The Road. Encores included Lost Together and a new song titled Bulletproof. The band was flawless as usual with special mention to Bob Egan who now seems very comfortable with the material after joining the band about a year ago. His work on pedal steel and National steel guitar help to define Blue Rodeo's signature style. Membership to his fan club is free and everyone should join!
Another great job of bringing people downtown for these events, this time, thanks to the folks at ARTVOICE.