By Bob Silvestri
bobsilvestri@bestofwny.com

The seventh annual Americanarama Festival was held on June 13th and 14th at Mohawk Place in downtown Buffalo. This two day festival is held each year in celebration of Flag Day and its founder Buffalo schoolteacher Sara Hinson. The all day Saturday portion of the fest featured three stages, the main stage in the middle of a closed down Mohawk Street, the outside side stage and inside the Hawk as well. As usual bar-b-que, hot dogs and Marty Boratin's exquisite salads and sandwiches were available, oh yeah, and plenty of cold beer.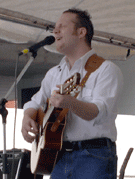 The music portion of this 10½-hour marathon began with Rob Falgiano doing his "Just Hank" show and an apropos way to start any honky-tonk hoedown such as Americanarama. Falgiano turned in inspired versions of "Wedding Bells" and "Lovesick Blues" Next up were Mountain Jam featuring John Brady and Chris Panfil playing such chestnuts as "Nashville Cats" and "The Night They Drove Old Dixie Down". Bluegrass aficionados Creekbend brought their down home playing to the festivities and played a sprightly version of "Foggy Mountain Breakdown". Octogenarian and snappy dresser Bob Beckley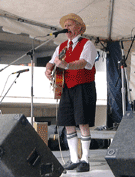 entertained us with acoustic guitar and singing. The Redgills, playing somewhat of a reunion show, brought their high-energy danceable tunes and again were a festival highlight. Rex Hobart and The Wrecks featuring Jim Whitford and Charlie Quill among others turned in an impressive set also. The Outlyers serenaded the crowd with uncompromising versions of their own "Playing Ball With Shoeless Joe" and Springsteen's classic "Rendezvous". They also turned in a driving version of Elvis Costello's "Peace, Love and Understanding".
Road warriors Scott Carpenter and The Real McCoys poured their sweat into a raucous set of classic Real McCoys songs and some new ones from their latest disc "Dear Everybody". Trashabilly kings The Irving Klaws brought their quirkiness to a very enthusiastic crowd of their fans. The festivals hosts The Steam Donkeys brought smiles to the faces and got the feet tapping with great versions of their classic song "Strip Joint" and "Your Gonna Hurt" from their new CD "Buffalo, NY". Cleveland cow-punk outfit The Cowslingers ended the night with barn burning versions of their own song "Drivin' Privilege" and AC/DC's "Whole Lotta Rosie".


Performers on the side stage included Danny Lynn Wilson and a stripped down version of the band Semi-Tough with John Weber and Joe Kross lending a hand. Inside the club performers included The Neighbors, best described as a collision between the Foo Fighters and Uncle Tupelo, Mike Meldrum, Cash Only Band and Karen Hudson with ex-Steam Donkey Joe Kross on drums. The annual hot dog eating contest and the crowning of Miss Americanaramamama rounded out the day's events. For more events at Mohawk Place go to www.mohawkplace.com