Best of WNY.com/Reviews / Best of WNY Music.com
CD Review
The Amazing All My Children Band
"Tangent"
By Bob Silvestri
The Amazing All My Children Band are back with their second release "Tangent". While most bands have a tendency to use all their good songs for their first CD and then turn in a lackluster 2nd album, The Amazing All My Children Band avoids the dreaded sophomore slump and come back stronger on this their latest effort.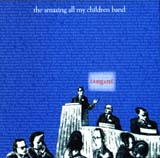 Harking back to an early 80's college radio, guitar band sound, the CD shows a more focused direction.The songwriting is much more mature and cohesive and the songs sound more complete than on their first CD.The band consisting of members Ian Brown (vocals), John Honan (bass-vocals), Chris Knab (drums), Jake Truckenbrod (guitar-vocals) and newest member Steve Barrick (guitar-vocals) show considerable growth with better arrangements on the songs and a more finished approach to the music. Singer Ian Brown also sounds more confident in his delivery.
Jangly guitars and an alternative flavor comes through most tracks, although some of the songs take a few listens to catch the hook or melodies, they are there and repeated listenings will bear them out. Favorite tracks include the leadoff cut "Mary Kay Got Married", "California" with its' Cowpoke feel and "Everything Is Weird" with its nod to Beatles/John Lennon psycadelic phase. Hopefully their next effort will continue on this path of maturity and improved playing.
Copyright © 2006 Best of WNY.com
Hosted by LKPro.com
All rights reserved. Reproduction in whole or in part without permission is prohibited.