By Bob Silvestri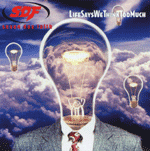 Seven Day Faith are about to release their second CD so let's take a look back at their groundbreaking first release.
"Life Says We Think Too Much" was released in 1999 and quickly gained attention from local radio stations. The band, Rob Bilson (vocals, acoustic guitar), Rob Ferenc (drums), Kevin Ernst (bass) and John Rosini (lead and rhythm guitars), were soon embraced by WNY area music fans and enjoyed the success of packed houses wherever they played including such venues as Nietzsche's, The Tralf and The Funhouse. They also played the sold-out Kiss The Summer Hello Bash with The Go-Go's at Dunn Tire Park and a blistering set at Thursday At The Square opening for Pat Benatar. National acclaimed followed with radio play in other markets and features in national magazines such as J-14.
The focus of Seven Day Faith has always been the music. The songs

on "Life Says We Think Too Much" are all well written and performed. The sound is more in line with bands such as Matchbox Twenty and Cheap Trick than bubblegum, top-40 or the boy bands.
The CD boasts what I can honestly say is one of the best pop/rock song that I have ever heard. I'm referring to "Perfect For Me". The first time I heard it on the radio I instantly fell in love with it's gorgeous sound and had not heard anything this good on the radio in quite some time. The shimmering guitar and Beatlesque vocals make for a perfect three-minute pop masterpiece. How this didn't become a major hit I'll never know!! Credit to songwriters Rob Bilson and Jay Neubauer.
Other outstanding tracks are "It's A Good Thing" which starts the CD off in impressive fashion and features a sweet vocal track from Bilson and a solid guitar riff from Rosini. "Hope" with its pleading vocal delivery is a winner also. The heartfelt chorus dances atop the ringing cymbals and galloping bass lines from Ferenc and Ernst respectively. "Controlling My Own Thoughts" is a rollicking/jangling arena rocker in the Bon Jovi mold. "Everything" which also received considerable radio play shows up as both an acoustic and electric track here. "When I'm There" and "Hole In The Wall" are acoustic rock songs in the Gin Blossoms/Soul Asylum mode. Both tracks find the band very tight and in their comfort zone.
Fresh off back to back wins for best rock band at the Buffalo Music Awards, Seven Day Faith are set to release their next CD and to conquer 2003. In the meantime be sure to pick up a copy of "Life Says We Think Too Much" and to keep up with the latest on the band go to www.sevendayfaith.com