Best of WNY.com/Reviews / Best of WNY Music.com
The BoDeans
-Bear's Den-Seneca-Niagara Casino-
Niagara Falls, NY - May 14th, 2011
Concert Review - By Bob Silvestri
bobsilvestri@bestofwny.com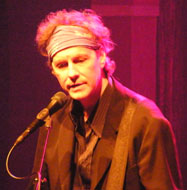 There appears to be a trend developing in our area. For the last couple of months some major established artists and some up and coming buzz bands have played to a less than full crowd at various local venues. This I believe is due to the abundance of free shows that has made the average concert go-er to feel they shouldn't have to pay or simply don't want to pay. These are not hundred dollar ticket shows but an average of thirty to forty dollars. Well within the reach of most folks even in this economy. What will happen is that the free shows will come to an end from both the promoters and the bands themselves something we are already seeing at some venues with small fees to attend or VIP seating where you pay to attend a free show. Excuse me? I thought free meant free.
And so with great personal dissatisfaction the BoDeans show on May 14th, 2011 at the Bear's Den inside the Seneca-Niagara Casino in Niagara Falls, NY was attended by only a third to maybe half the capacity that the venue holds. This is a band who had a decent ride with a bunch of hits in the late eighties and early nineties and who continues to release new material and tour regularly to this day. When this happens bands have a tendency to skip your town the next time as they sense no support from the area.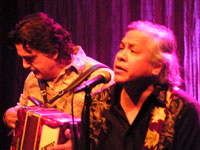 For those who chose not to attend it was their loss as the band put on a brilliant nearly two hour set. The BoDeans are comprised of Kurt Neumann on electric guitar and vocals and Sammy Llanas on acoustic guitar and vocals along with Michael Ramos on accordion and keyboards for this show. Possessing some of the most incredible vocal harmonies this side of the Everly Brothers the band dug into their catalog with a refreshing passion that was not lost on the sparse crowd. They hit the stage with one of their biggest hits "She's a Runaway" and kept them coming all night. "Angels", "Fadeaway", "Still the Night" and "Idaho" all were greeted warmly by the crowd. They even threw in an amazing cover of Elvis Presley's "Trying to Get to You" for good measure. But the highlights of the evening were on the soul baring songs "Far Far Away From My Heart" and "Naked" both sung by Llanas and were show stoppers. They wrapped up the set with "Good Things" and returned for an encore and played "You Don't Get Much Without Giving", "Misery" and closed the show with their biggest hit from the TV show Party of Five "Closer to Free". It was great to see the band play a show in our area since the last time they were here was in the mid eighties. Too bad more folks couldn't have showed up to support this very deserving band.
For more great upcoming shows at the Seneca Casinos go to www.senecaniagaracasino.com

Copyright © 2011 Best of WNY.com
Hosted by LKPro.com
All rights reserved. Reproduction in whole or in part without permission is prohibited.