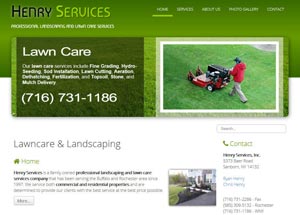 Henry Services, Inc.
5737 Baer Road
Sanborn, NY 14132
(716) 731-1186 - Phone
(716) 731-2286 - Fax

Website:www.henryservices.com
Henry Lawn Care Services

We're a family owned professional landscaping and lawn care services company that has been serving the Buffalo and WNY area since 1997.

We service both commercial and residential properties and are determined to provide our clients with the best service at the best price possible.

For a free consultation, please call or contact us and we will schedule an appointment to meet with you. Henry Services is experienced and equipped to handle all your lawn and landscape needs. Whether you're a homeowner or a commercial property developer, our variety of services are available to assist you in completing your project.